The UNI-IGC 7129 still allows the use of extendable flexible water pipes.
Only flexible water pipes still have the possibility of being stretched, contrary to what happens in the area of gas.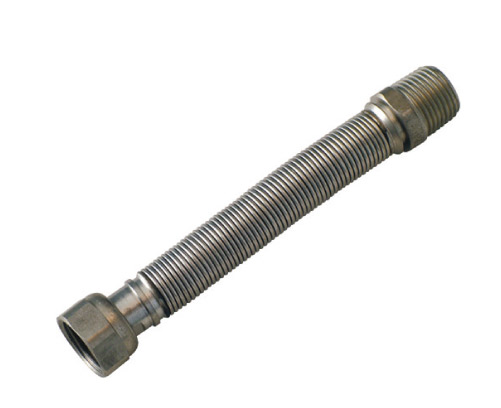 The UNI-CIG 7129 standard represents the reference standard for the production and marketing of extendable and flexible pipes for water. This type of pipes is a valid alternative widely used in applications that require extendable or difficult to position and put into operation without the possibility of flexing them. Although they are extendable, they can never be extended more than twice their compressed length to avoid problems associated with the resistance of the pipe itself or with the tightness of the system. This requirement, together with the recommendation to avoid excessive bending near the fitting, are the rules of good design essential for the correct functioning of the system and the component. In addition to this, the correct choice of the material and the parameters of the production process is fundamental for the creation of extendable corrugated pipes that comply with the project requirements.
The
extendable pipes
are generally produced in AISI 316 stainless steel, an austenitic stainless steel which guarantees excellent properties regarding the resistance to corrosive phenomena due to the presence of salts dissolved in hard water, as well as good mechanical characteristics of resistance, food compatibility and drinkability of the conducted fluids. Fittings are fixed at the ends, one "male" and one "female", always with gas thread, which are necessary for connection with the other components that make up the system.

The UNI-CIG 7129 standard and eco-design
The UNI-CIG 7129 standard was modified and revised in 2015 to meet, above all, the new regulations on sustainable design introduced from 2013. The purpose of this type of design is to guarantee product design in compliance with the environment. The basic principles are:
- Use of sustainable materials: they must be compatible with the environment both at the production level and once their main function is finished;
- Energy saving: working on production processes in order to minimize consumption;
- Quality and durability: reduce consumption over time by producing less waste to dispose of;
- Recycling: already making a forecast of the end-of-life use of the component;
- Minimum diversity of materials: in this way to reduce replacement and disassembly operations, if necessary;
- Use of resources obtained from renewable sources.
This type of design, which is becoming increasingly popular in different fields, from engineering to architecture, represents a fundamental perspective for the future. For this reason, Gnali Bocia guarantees that the UNI-CIG 7129 standard is also respected in the production of extendable pipes, providing the customer with a product that is performing from the point of view of its characteristics but also compatible with the environment.

 
---
13/07/2020
I contenuti di questo sito non hanno carattere di periodicità e non rappresentano 'prodotto editoriale'.