Operation and description of the multilayer fittings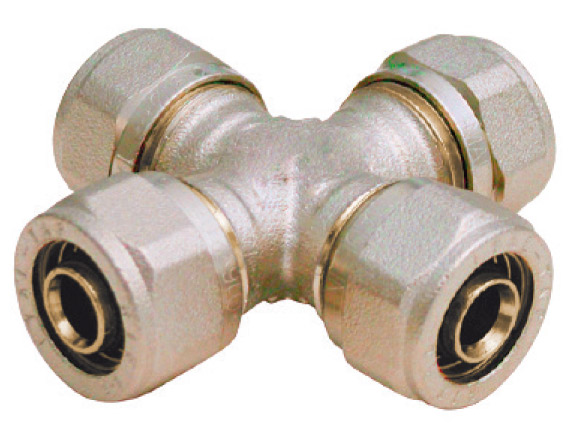 Speaking of fittings, it is necessary to distinguish two main categories:
• Fittings to tighten (or to screw)
• Press fittings (or to clamp)
In addition to these, there are a series of modular manifolds that allow you to create differentiated systems that are in step with the times, suitable for various and specific applications.

The design features of the multilayer fittings
The fitting houses a classic sealing ring, called O-Ring: when the pipe is connected, it passes through a metal washer and, subsequently, in this rubber ring. The fixing is in place only when the pipe is in contact with the stop at the end of the housing. At this point it is possible to tighten the nut and the connection becomes effective. 
It is important, within the company context, to be able to mark the depth of the fitting on the pipe, as it can vary from model to model and depending on the manufacturer. Some companies, to do this, use customized tools and located in a special area, aimed at this purpose.

Assembly of multilayer fittings
For assembly, it is desirable to follow some rules:
1. Prepare the pipe to be connected.

2. Place bolts or inserts.

3. Mark the pipe to define the connection depth.

4. Based on the signs made, insert the tube into the fitting and check for correct placement.

5. Tighten the threaded nut between the pipe and fitting.
Once disassembled, the fittings can be mounted again by performing a series of checks on the gaskets (checking their seal) and on the signs due to the forcing between the two components.

Why using multilayer pipes and fittings?
The use of multilayer pipes and fittings is ideal for applications inside buildings. The conformation of the system makes it highly resistant to the pressures and temperatures of the fluids it conveys. Furthermore, it is resistant to corrosion, thermal expansion, scaling and the passage of oxygen: these problems are not negligible in this type of application.
Specifically, both for the pipe and the fittings, each layer is added to improve some features:
- Polymeric layer or rubber seal: non-toxic, acoustic attenuation, lightness, flexibility, tightness, reduced pressure drops.
- Metal layer: oxygen barrier, reduced thermal expansion, resistance to high pressures and temperatures.
 
Gnali Bocia in the multilayer fittings market
The company presents, within its catalog, a series of components for
multilayer fittings
with threaded junction (for example DIN2999) in the most common range of sizes on the European and Asian markets. The maximum conditions guaranteed thanks to these products are 120 ° C for the temperature and 10 bar for the pressure.
These properties are permitted by the choice of first quality materials of use:
Brass: CW617N-EN12165.
EPDM peroxide: O-Rings.
PTFE (Teflon): separating washer.
Among the most famous components are: corner fittings, T-pieces and cross fittings.
---
20/06/2019
I contenuti di questo sito non hanno carattere di periodicità e non rappresentano 'prodotto editoriale'.